Business Portal
Your Business Portal is the central access point for all your cloud services, integrated local apps, and custom applications.
Brand with your logo
Secure staff logins
Company hierarchy
On-premise systems integration
Custom applications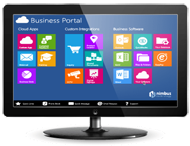 All you need is a web browser! The Portal is a sophisticated online platform, bringing together tools from a variety of sources.
At its simplest level, the Portal is a central access point for your existing Cloud services, plus the core applications that come with the Portal. These include Quick Message, Files & Folders manager, Accounts, and Agreement Writer.
We've worked hard to enhance our customers' on-premise systems with useful applications such as Inquiry, Product Locator, Digital Signage content management and CCTV camera access. If you have an idea for more ways to enhance your systems, just let us know!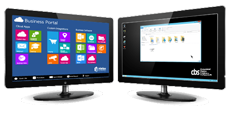 Microsoft Terminal Server is our classic centralized computing server option, plus all the added benefits of the Business Portal.
With this option, you get everything from the Online Portal, plus:
Classic Microsoft desktop environment
Microsoft Office suite
Other customer-owned software
Legacy apps
Server redundancy, security, and in-building back-ups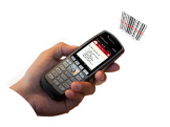 This staff-facing app connects to your inventory database to display key product information, search for related products, and more.
Provide staff with full or limited access through your secure Business Portal. A customer-facing version of Product Inquiry is also available for in-store kiosks.
With the RF Phone/Gun's built-in bar code scanner, easily scan product numbers into the search bar. Additionally, use the unique Locator feature to add or delete products from bin locations.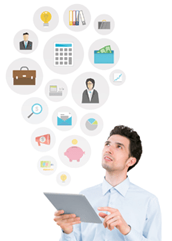 Our goal is to create tools that are practical, easy to use, and accessible on any device. We believe that any task can be made easier if you have the right tools for the job. Our development team is always interested in your ideas for how to improve productivity within your organization.
Here are just a few of the many possibilities:
For Field Staff: Mobile apps for access to service orders and business software
For Retail: Rain cheque management
For Franchises: Contract generator to manage new contract creation

Internal Communications Provide internal messaging for your company with QuickMessage. This intuitive app connects to your custom PhoneBook and integrates with the Business Portal.
Customer-Facing Communcations: Manage customer-facing messaging in response to client feedback, through a custom communications platform branded for your business.