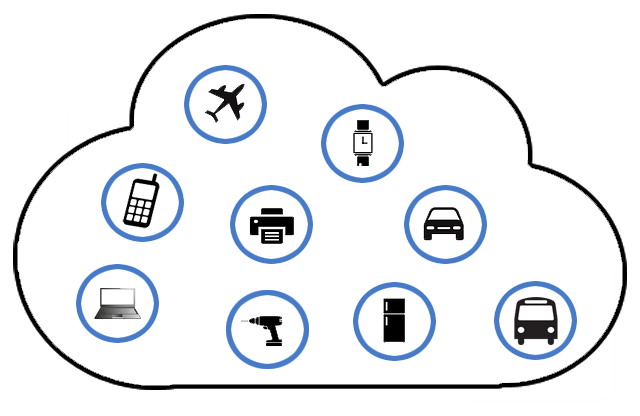 "Iot" – One of the latest in our world of acronyms.
When I first heard the phrase, it had to be explained to me too.
As the pic to the left shows, anything connected or in the cloud.
Wow. Home appliances, cars, industrial equipment, all internet ready and talking to someone or something somewhere out through the web.
So what does this mean? What makes sense for you to know and understand?
Is that extra piece of internet connectivity important, needed or just a luxury item?
Chances are, you or your staff are already using this technology, even if you didn't know the current name of it.
How many people in your organization carry cell phones, tablets and laptops?
Are they connecting to company resources (email, data systems, web-sites, intranets?)
What about fleet vehicles, are you tracking them?
On the consumer side, we have to be 'In Touch' all the time, on our social networks, always connected.
We all want this more so in our business lives too, so we can be more productive, and never miss a call, email, message or post.
What are the real benefits of IoT?
Information, anytime, anywhere
Access to resources (fill out digital work orders in the field)
Asset management and reporting
Equipment monitoring
Provide safeguards against internet outages (back-up/redundant service)
Now, the downsides:
Internal Security Risks

Access to privileged information on non company owned devices
Circulation of business login credentials through lost or transferred devices

External Security Risks

More entry points for malicious attacks

Additional recurring costs for increased data usage
So, weigh the options and determine the value and return.
Minimizing paperwork by doing live updates in the field can off-set labour and admin costs dramatically.
Having a cellular internet back-up when your internet provider is dealing with damaged lines in the winter keeps your business ticking.
Having refrigeration devices warn you when they are failing allows a more timely repair before your product spoils.
Most importantly, when you make the decision to join the "Internet of Things" do so with a strategy and partner that will keep your business secure.
Thanks,
Mike.